Jacky Yenga is the founder of  The Spirit of the Village.
She is a performer, speaker and author, and teaches how to use
the power of community to grow and to create a life of happiness,
success, fulfillment and inner harmony, and
how to access joy through movement and connection.
She brings the healing message of her African ancestors through
wisdom teachings, songs, stories, rhythm and movement
from her village in Cameroon and beyond.
…

The Spirit of the Village is
a State of Being and a Way of Life
It is a Healing Journey of
Personal Growth and Self Exploration
The journey is intended to leave you experiencing a positive attitude in life, and we all know that a positive attitude leads to success and happiness. For most of us, an ongoing state of happiness involves the experience of genuine friendship, true connection and belonging.
To help you reach that state, we will provide you with knowledge and practices inspired by African Wisdom Teachings that are designed for daily living in the modern world. Our intention is that you experience the feeling of happiness on a consistent enough basis that eventually it becomes your "normal" or habitual state of being.
In Africa, this knowledge and these practices are our technology for happiness!
The modern world is in desperate need of such "technology", as more and more people experience increasing levels of emotional distress that affect their quality of life and their productivity and lead to chronic stress, illness, depression and even suicide. According to the World Health Organization, by 2020 depression is set to be the second most disabling condition in the world after heart disease. What an alarming prospect!
At the end of the day, whether we are seeking healing or personal development, we all just want to be happy. We can do this together.
"It is in the shelter of each other that the people live." Irish Proverb


…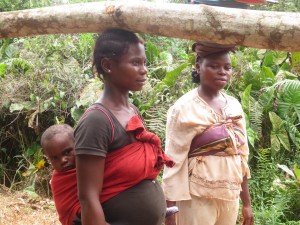 Traditional cultures operate with the premise that the individual is meant to live and flourish within a community, not as an isolated entity. Therefore the focus of their teachings is placed primarily on the well-being of the person as a human being, and not as a consumer.
If I had to articulate an intention for this journey based on the heritage of my ancestors, I would say that we are embarking on a quest to reach a state that in my dialect, Maka'a, we call Menyouo. This word translates into both happiness and goodness. It's a state that you experience only in your heart and soul. We would say, for example: "I have Menyouo in my heart" or "He does Menyouo to people".
In order to do Menyouo (goodness), you have to have Menyouo (happiness)!
Indeed, a happy person does good things in the world…
Let's support each other into creating happier lives!
Start the Journey HERE.