M B O M B O
African Healing Rhythm 6-week Soul Journey
Joy, Movement, Rhythm and Connection
Come for 2 hours and leave happy, every week!
Starting Sunday, February 25, 2018


6:30 pm to 8:30 pm
Bridge & Enrich – 718 east 20th ave (@ Fraser st)



…
Experience African Wisdom Teachings for daily living in the Modern World
and the Healing Powers of African Rhythm Therapy
…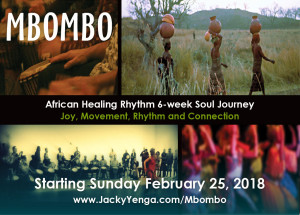 As we settle into a New Year and navigate into our modern busy lives, trying to reach various levels of success and achievement (often defined by others!) while also trying to enjoy life and be in harmony within, it's very common to experience stress, to feel overwhelmed and lose connection with ourselves. "Where do I really begin, and what is truly important? And what does a successful year look like FOR ME?"

Do you sometime feel like you have literally lost yourself and your inner fire?
Does it seem like your life is filled with too many deadlines and a long to-do-list, and not enough opportunities to experience and express joy and friendship?
Do you want to feel excited about life once again?
Do you wish you could define what success is FOR YOU?
Would you like to naturally feel connected to others, and belong?
Would you like to vibrate at a frequency that effortlessly attracts what you desire?
If you answered yes to any of these questions, you are in the right place. In these times of goal setting, it's easy to feel overwhelmed and disconnected from our own essence. We feel the pressure to be "successful", we set goals for the year and design a plan to achieve them in order to be happy, and then we frantically live our life chasing one accomplishment after another, trying to beat time, buy more time or falling behind, using will power to achieve our goals and eventually getting stuck in a cycle of stress and exhaustion and we can't feel the essence of life let alone authentically enjoy it. And eventually most people end up feeling discouraged and they give up; or if they reach some of their goals there is no joy in the process, or they feel that their actions are not fueled by the passion and excitement they used to have about life.
But it doesn't have to be that way for you!
Reaching your goals and creating a life that you can fall in love with does not have to be a stressful, difficult or unfulfilling journey. What if there is a way for you to release stress, be in the flow, reach your own self-defined success and enjoy the process along the way?
How do you reach your goals without stress while enjoying the process?
How do you turn the pursuit of your goals into a journey of joy?
How can you feel absolutely enthusiastic and excited about life again?

First we have to understand that everything we experience in life is a feeling. Joy is a feeling. Happiness is a feeling. Community is a feeling. Success is a feeling. And Flow is a feeling, an experience of life.
Second, we have to realize that we don't need more talks, explanations or scientific proof. We have enough information now to understand the need for more joy, connection and friendship in our lives to achieve true success and happiness. It's time to practice the experience and the actual feeling we are seeking.
BUT we need to believe that we can have it all! It is possible to achieve material success and enjoy a happy and fulfilled life filled with meaningful experiences and relationships. We simply need to tune into the "right" frequency and stay there long enough until it becomes familiar, and until we begin to manifest experiences that match this frequency.…
So let's tune into the frequency of Joy!


…



A 3-step process
Release stress to RELAX the body and mind
Activate the natural expression of your INNER JOY
Enter a state of FLOW and surrender to it
We are aiming for the state of the Rested Soul, and it is from this place that we attract the life we want.
How do you typically get what you want?
Set goals and have a step by step plan to reach them, and be rational about the whole process;
Fall in love with the thing you want and focus on the feeling you have toward it;
Activate the feeling of happiness and fulfillment, and trust that anything that comes your way is purposeful and will match the vibration of happiness that you are emitting.
Both 2) and 3) seem similar, except for the entry point: in 2) we focus on the thing we want while in 3) we focus on the feeling of happiness that we usually experience when life is great and we get what we want. Strategy 3) opens the door to something greater, something that we might not have thought of!
But another element is TRUST. We have to trust our relationship to Life and trust that Life will give us what we are vibrating, which in this case is happiness.
In African culture, life is all about relationships, because we are in a relationship with EVERYTHING.
How about we communicate with the energies of
the life we want to create in 2018?
We can do that through a journey into Rhythm.
WHY RHYTHM?
What if you could skip the mental process of goal setting and tap into the ENERGY of what you want?
Is it possible to access that place where there is not time and everything is available to you?
Everything you want lives in the flow of life and it all happens in the present moment. So, how do you access the flow?
Through Rhythm.
There is Rhythm in everything. Rhythm is the nature of life, and we are seeking alignment with it. In fact, African time is Rhythm, because there is no time in nature, only rhythm…
In this series, we sing, dance and drum to communicate with life and establish a relationship with the things we want, but we go even deeper: we are establishing a relationship with the flow of life, and its rhythm.
"All organisms, including humans, communicate and read their environment by evaluating energy fields. Because humans are so dependent on spoken and written language, we have neglected our energy sensing communication system. As with any biological function, a lack of use leads to atrophy. Interestingly, aborigines still utilize this hyper-sensory capacity in their daily lives. For them there has been no "sensory" atrophy. For example, Australian aborigines can sense water buried deep beneath the sand and Amazonian shamans communicate with the energies of their medicinal plants."
Dr. Bruce Lipton ~ The Biology of Belief
It is based on this principle that this series is designed. Traditionally in Africa, we use dance, music and songs to heal, to generate the energy of joy and to connect with one another. But that is also our way of establishing communication and a relationship with Nature, with Spirit and with the Flow of Life.
What can you expect?
Every Sunday you will leave each workshop feeling "high" and ready to begin the week with renewed energy! You will have more joy, more enthusiasm and more energy.
Imagine feeling that way every week for 6 whole weeks!
This will set the tone for the rest of the year for you.
This is truly a "quantum physics-inspired tune-up"! Because we are focusing on creating harmonic energies.
Rhythm restores harmony. This journey is about making friends with life again, and restoring trust and harmony within.
To activate Rhythm is to receive this moment, to be fully present in it.
We now understand that as long as we live in time, we are trapped in an endless cycle of projection. Spiritual teachers have been urging us to free ourselves from the bondage of time!
In The Presence Process, Michael Brown says that "…the vibrational resonance of what life really is cannot enter time." And "In time, nothing authentic happens – we only think it does."
So let's stop this "mental condition of 'living in time' – relentlessly running from yesterday and frantically chasing tomorrow, without rest and stopping to feel peaceful". Let's create something authentic together!
I want you to know that this way of life you are so familiar with,




and which has caused you so much pain,




is not the only experience available!
We will practice and feel rhythm because we are seeking harmony with the nature of life. We can learn to create wealth and well-being from this place of greater inner harmony, instead of the conventional way which requires us to be unnaturally bound by time and perform tasks that are contrary to our values
and do not validate our true essence.
For 6 weeks, what we are really doing is that we are immersing our entire being, our mind, body and soul in healing energy.
MBOMBO can help you tune back into Harmony with the Rhythm of Life, the place where Everything is Available to You.
…
We will
Drum to activate healing vibration
Dance for healing movement and connection
Sing to restore harmony
Most importantly, we will cultivate JOY…
Finally you will tap into the tremendous power of JOY to design the life of your dreams. Unlike "fun", which is the experience of the mind, joy comes from the soul and its effect lasts much longer. Joy brings us in the present moment and helps us connect with ourselves and others at a deeper level. It also allows us to effortlessly align with the loving and abundant nature of the Universe.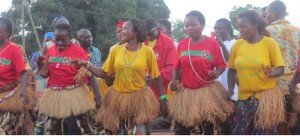 In many African traditions, we activate and express joy regularly to keep our heart happy and maintain our connection to the soul and to one another. And Life becomes a joyful celebration, regardless of what we may or may not possess.
Don't you think it's time to learn a new, natural (and better) way
to approach the pursuit of all that you desire in life
and all that makes your life worth living?
…
Mbombo means Friend. This 6-week series is designed to activate and anchor the experience of Authentic Joy in you, in order to trigger alignment with the rhythm and the abundance of life. It is also a journey of Friendship, Connection and Belonging. You will naturally activate your ability to tap into the Healing Rhythm of Life and find your own beat. And you will anchor your new state of being (JOY!) by coming together with a tribe of like-minded sisters every week to reset your buttons for greater awareness, more presence and more joy and harmony in your life, because real change requires repetition and consistency.
Rhythm is a Point of Connection, and Joy lives in Rhythm




…



I will be joined by some of my friends, who are all experts in their respective fields and are committed to supporting your journey:
Ron "Radar" Stelting
Alexandra Jai Millman – Drum Mama Studio
Yoro Noukoussi
Kurai Mubaiwa
They all teach us how to be in the flow, through rhythm.
…
Why would this work for you?
Instead of adding more content to your life, like for example wanting a new car, a new relationship, a better job, etc., what if you were to focus on the feeling you want to feel a year from now, at the end of 2018? And what if you could be in alignment with your Soul's natural state of JOY, feel the feeling you want and then consciously and consistently create your dream life from that place?
Think about it. If you were to bring the feeling of happiness into everything you do, enjoying your daily life and feeling a sense of fulfillment, at the end of the day even if you did not reach your goals, once you are a happy person, wouldn't you remain happy anyway? Would your goals matter that much over the experience of a happy life, which is what you were going for in the first place with all these goals anyway, hoping that achieving them would bring you the happiness you want?
Is it about the goals, or is it about YOUR  Happiness?
…
Developing joy authentically and bringing it into everything you do will help you naturally and effortlessly increase your level of success and happiness, and contribute to a greater quality of life. Can you feel the truth of that?
You will take action from the place of inspiration
instead of will power
…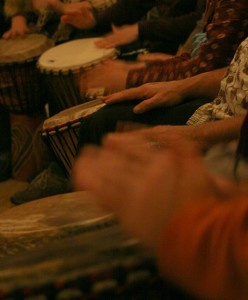 The question is: what kind of an impact would that inner state of joy have in your life in 2018? And how can you reach such an inner state?
Mbombo can help you reach that inner state of being. We will activate it over and over until it becomes more of your "normal" state, and we will open ourselves to the gentle guidance of the Soul.
…
Some of the things we will do include:
Mhande – the Harvest dance from Zimbabwe (see video below)
Introduction to Drumming as a healing practice
Learning and singing village songs for connection and comfort for the Soul
The Dance of Connection to increase Joy and Energy
Creating Rhythm as a Tribe
Feeling Rhythm with our entire being, not with the mind
Introduction to a new language that requires "sensing"
What else will this 6-week journey bring you? You will
Take a healing journey of the Soul and develop a relationship with it
Discover and connect to your own vibration, your own authentic rhythm
Allow more flow into your being, naturally and effortlessly
Set new intentions that are aligned with your true essence, without any attachment
Let go of what does no longer serve you, take down the load you have been carrying, and step into a new path that you resonate with
Start vibrating at a frequency that will effortlessly attract what you desire
Disconnect from the bondage of time
Take a real cultural journey into the healing wisdom of Africa
Experience bonding with a tribe
And much more!!!
This is an exploration of rhythm. Your Rhythm!
You will sing to bring comfort to Your Soul,
dance to awaken Your Body, and feel and liberate Your Own Beat.

…


You will experience your own True Essence!


…



What is the cost? $299 – Register early and save BIG!


…



You can register up until March 4, if you miss the start date of February 25!


In that case you only pay for the remaining portion of the series.




…



Are you still hesitating?

The question you want to ask yourself is this:
What's going to come out of me in 2018?
What is your answer?
Will it be more goals? (You've been there already…) or MORE JOY?
YOU DECIDE.


…



Don't miss the transformational mindset shift we'll use to help you redefine success and make each week a celebration of life for you. There is tremendous value in your life that does not translate into a dollar amount, and yet is invaluable!
…
Mbombo offers a natural formula for getting the most out of life, a healing and joyful plan for happiness and success that is desperately needed in our world today. You'll learn valuable lessons you can apply to create your own happy path into the future.
This journey will lead you to
More Joy and Energy
More Presence and Connection
More Willingness and Enthusiasm for Life
More Peace, Fulfillment and Harmony Within
*Picture yourself on Monday, starting the week feeling that way, every week…
You save when you register early or with your friends!

* Sign-up a group of 3 by February 24 and pay only $229 per person!
* Sign-up by February 24 and pay $249 per person
* Regular rate of $299 applies starting at midnight on February 24
You can also send me an interac e-transfer if you prefer, at jayenga@jackyyenga.com.
Gift Certificates are available
Give the gift of healing to someone you love! Simply send me an email at jayenga@jackyyenga.com
…
Workshop dates
Every Sunday, from 6:30 pm to 8:30 pm unless otherwise stated
| | | |
| --- | --- | --- |
| February 25 | March 11 | April 8 |
| March 4 | March 18 | April 15 |
IMPORTANT
Please note that dates with * indicate a different start time, due to previously scheduled programs at the studio. No class Mar 25 and April 1 (Spring break).
Also, the entire session is 6 week long, and there are no extra sessions you can come to if you miss any of the 6 scheduled workshops. The first workshop is a little longer!
…
Cancellation Policy – *Please read*
100% of the money is refundable when you cancel at least 30 days or more

before

the series start date.
When you are part of a group and you cancel, the price will automatically be adjusted to reflect the group status (i.e. if you sign-up as part of a group of 5 and you cancel your own registration, the group of 3 discount will automatically be applied to the remaining four registered members of your group, and the amount to be reimbursed to you will reflect the price adjustment).
Within 30 days of the series start date, no reimbursement will be issued but your credit can be either transferred to someone else or be applied for future programs for the remaining year 2018.