How to bring Harmony to the

Human, Natural and Spiritual Community

…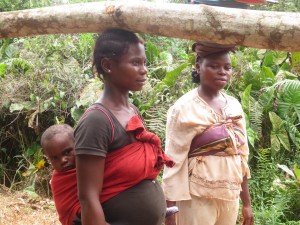 Traditional cultures operate with the premise that the individual is meant to live and flourish within a community, not as an isolated entity. Therefore the focus of their teachings is placed primarily on the well-being of the person as a human being, and not as a consumer.
If I had to articulate an intention for the Spirit of the Village journey based on the heritage of my ancestors, I would say that we are embarking on a quest to reach a state that in my dialect, Maka'a, we call Menyouo. This word translates into both happiness and goodness. It's a state that you experience only in your heart and soul. We would say, for example: "I have Menyouo in my heart" or "He does Menyouo to people".
In order to do Menyouo (goodness), you have to have Menyouo (happiness)!
Indeed, a happy person does good things in the world…
…
Life in a traditional African village is all about relationships, therefore we learn from a very young age to cultivate those relationships. But the learning process isn't intellectual in the beginning!
First, we pick up the vibration around us, which is mostly expressed through rhythm. Then we are told stories that are designed to teach us about life. Then our songs and dances provide additional instructions that are experienced and anchored in the body. And finally, everything is being reinforced by our way of life, by how we interact with one another and what we say to each other.
In the African model of life, we do everything together to hold, support and encourage each other. How would you feel if you were living in such a world?
The Path to Menyouo is Jihi: a Woman's Journey into
The Joy of Rhythm!
The Jihi retreat programs are about Rhythm, Healing and Connection and are
specifically designed to help you build a daily life of Joy, Celebration and Fulfillment
The Essence of Rhythm – 1 day retreat
The Heart of Rhythm – week-end retreat
The Spirit of Rhythm – week-end retreat
The Soul of Rhythm – weekend to full week retreat
The Roots of Rhythm – 3-day retreat
The Ritual of Rhythm – 10 day retreat
Menyouo is not a destination per say, it's an experience you are having: either you are experiencing Menyouo or you are not.
In Maka'a we say: "I am hearing Menyouo" (that's how we say "I am understanding") instead of I am "feeling" Menyouo. Jihi is the path that leads you to the experience of "hearing" happiness.
All the programs in the Spirit of the Village are designed around the 3Cs: Connection, Community and Celebration. And in the journey we take into account the various stages of our human experience:
MOUD
This stage is all about YOU as an individual
Programs for connection to self
*Moud means a person
BOUD
This stage is about your connection to others
Programs for connection to community
*Boud means people
SE BESS
This stage is about your connection to everything or to Source
Programs for connection to Source
*Se Bess means all of us
Other ongoing healing programs
"I stepped into the Village one night and felt an instant sense of belonging. Everyone was there for the same reason and we could feel the powerful connection.
I have attended several Spirit of the Village events and have always left with a warm happy feeling. Once you step into the Village you feel the drum beats move through your body.
The African dance performances will delight your eyes and you can imagine what happens in the village.
This is truly a one of a kind experience, and like me, you will leave knowing that you have found your tribe."
Kelly B., Vancouver, BC
Take the Journey! This is a world worth creating.
Start with the upcoming events
***A link to all the retreats will be added soon!***